The "Kids"
Kerney, Kelsey, Fonda, Valma, Forest, Wilma, Jody, Lovette, Robert, (Not pictured, Elma. See Elma and her husband, Jesse, near bottom of page.)
Youngest of Will and Loretta's children, Lovette, and the oldest, Kerney. Picture made January 9, 1989 when Kerney was 90 years old. He died 19 days later. Lovette was 71 at the time.
Be sure to visit "The Farm Bell" page.
Little Cowan School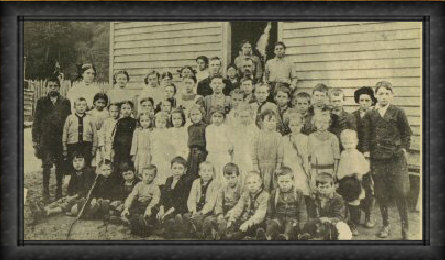 Daddy is the tall boy on the right in knickers. The list below indicates that his brother, Kerney, was one of the teachers. Another brother, Fonda, was one of the students as was a sister, Valma. Also pictured are names that I think I recognize as Daddy's cousins who lived on Cowan.
A complete list of names is below:
Uncle Kerney's accomplishments , Click here
(Click here to see his obituary on Daddy's page)
I have many pleasant childhood memories of "over on Cowan." When we went to our grandparents, it was "over on Cowan." When the family gathered together, there was a very long table spread with lots of good things to eat, much of it grown right there.
~~I found these birthdays in Daddy's things.~~
Daddy's parents
Will Adams--August 15, 1867
Loretta Jones Adams--October 20, 1875
Daddy Siblings
Kerney M. Adams--January 9, 1899
Kelsey G. Adams--June 10, 1900
Fondy V.Adams--June5, 1903
Valma Adams--April 22, 1905
Forest Adams--June 1, 1907
Wilma Adams--June 23, 1912
Jody Adams--December 23, 1915
Lovette Adams--February 9, 1918
Mother & our Family
Lillie Mae Robbins Adams--August 30, 1911
Robert Vernon Adams--November 21, 1926
Ruby Delores Adams--December 24, 1933
Violetta Adams--March 4, 1940
Lorinda Lee Adams--February 2, 1942
Alice Mae Adams--October 28, 1944
Kelsey Ray Adams--October 28, 1944
FUN ON THE FARM
Going to Cowan, Kentucky to my paternal grandparents was a special treat. We visited often and each trip was a cherished one. The two-story house had a large front porch, screened-in back porch and a "sun roof" on top of the front porch where Mamaw dried her beans and apples.
The high hedge hugging the front yard was always neatly trimmed to a box shape, columns little higher at the entrance gate and running the entire length of the large front yard.
There were lovely rose bushes, a fish pond near the back kitchen door, a tree by the left side of the house that seemed to always have tree frogs.
There was a path down through the vegetable garden that led to the "outhouse." Papaw's beehives were on the left side of the house and the apple orchard, tool house, chicken house and other stuff on the right.
This is the only picture we have been able to locate of the farm house. If anyone has one they would share, we would be happy to add it here. (Thanks, Marietta, for this one!)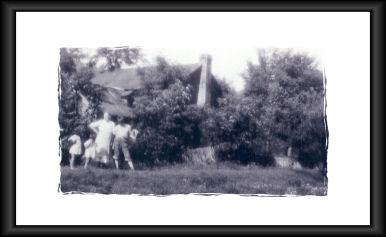 Selma (Crase) Cantrell, Marietta (Crase) Ball, Mamaw Adams and Robert
Selma and Marietta are the children of Daddy's sister, Wilma (Adams) and Ewen Crase (who took the picture). Thanks Marietta!
At the back of the garden there were haystacks to slide down (if Papaw didn't catch you.) Above the haystacks on the left (behind the chicken house in the bottom) was a hill with a portion fenced off for the family cemetery, and beyond that grazing for the milk cow.
There I was between Mother and Daddy as we neared the farm, and I was filled with excitement mixed with anxiety.I knew I was going to remain there after they went back to Jenkins without me.
If either of them had spoken one word of doubt about my staying, I would have gone back home with them, as much as loved being with my grandparents, Will, tall and handsome, and Loretta Adams, lovely and compassionate. Mother and Daddy understood and didn't say anything, letting me decide to stay or not. Well, I would stay and have a memorably good time.
My Memories of "Down on the Farm
Over on Cowan"
Some of the things have been indelibly stamped in my "pleasant memory."
Walking to the mailbox across the creek to get a letter from home.
Opening the letter and finding coins taped on it to be spent at the country store.

Walking to the store with one of my friends "up the hollow" and deciding how to spend the dimes.
Visiting with my "on the farm" girl friends; Avis Boggs and Sarah Hampton.
Playing upstairs in the "big room" and exploring the side rooms.
Being awed by Uncle Kerney's library upstairs in the room. I assumed they were his books because he was a professor at Eastern State University (even wrote one of the textbooks they used at the university). I love books, so it was one of my favorite places to explore.
Drawing water from the well with the cylinder bucket, setting it on the side of the bucket and pressing the release lever; watching the water fill the bucket.
Stepping on the mint growing by the well where water was regularly spilled and inhaling its fragrance and nibbling on it.
Helping Mamaw churn the "seasoned" milk and making butter from it.
And, oh, especially watching her dip me a bowlful of the soft, white, fluffy butter before she "worked it down"; digging a spoon in that wonderful stuff as if it were ice cream and relishing its warm, creamy, unsalted goodness. Ummm!
Drawing butter and milk up in a bucket from the square cooling well that sat near the water well and taking it in to the large kitchen for a meal cooked on the wood burning stove.
Watching Papaw sweeten everything that needed it with molasses. I don't recall a meal that didn't have molasses on the table.
Gwenda said she remembered the honey that Mamaw always had on the table. I am sure that the honey was included with each meal also. Papaw would have robbed his bees to get it.
Being allowed to feed cane stalks into the press that squeezed the sugar cane "juice" out for the molasses stir-off.
Running to the press while the horse that powered the press was on the other side of its circular route, then running back out again after it made its pass and was back on the other side again.
Watching the luscious foam form on the molasses as they cooked in long narrow pans; with someone stirring, stirring until it was just right.
Remembering that Will Adams had the reputation of having the best molasses around. I know--Mother said I got a taste when I was very young. She missed me and found me on the screened-in back porch with my finger at the opening of the keg of molasses. I had managed to turn on the little faucet at the lower front of the keg and was catching the drip with my finger and licking the slow moving molasses off my sticky finger. Good thing it was winter time!
Sitting on the screened-in back porch helping Mamaw string and break beans to cook, can or to dry for "shucky beans".
Stirring apple butter made from apples from their orchard with a long hand-made agitator in the big black cast iron kettle.
Sitting at the long kitchen table with the men and other kids eating when the family gathered at the Adams homestead for visitations. The women served us and then took their time eating and getting caught up on the latest news after we finished; the men gathered to play checkers and talk, and the kids played in the immaculately manicured lawn with dolls and whatever we had available.
Watching Papaw don his old hat with a veil and work with his honey bees.
Playing in the orchard down near the creek that also had the best plums ever.
Catching butterflies that loved the beautiful flowers in the yard.
"Fishing" with a straight pin that Mamaw had bent into a "hook".
And there were always chirping birds to enjoy.
Playing with the farm dog (I think it was a collie).
Since dogs were my favorite animals, I wanted it to go in the house with me, but it refused. Papaw had thoroughly trained it to be an outside dog.
Visiting Aunt Becky Jones and eating her biscuit and fresh-churned butter sandwiches.
Aunt Becky and Aunt Lula were sisters and married brothers. They lived next door to each other "over on Cowan."
Aunt Becky Jones told this tale on me. She made me a biscuit and butter sandwich, because she knew that was my favorite snack. Just to be polite, she said, "Honey, I don't have much, but here is a biscuit with butter." My reply was, "You don't have much, do you?" It was so humorous because she knew that was my preference. Maybe I was trying to be polite too? I don't remember the incident, but I sure do remember those biscuits!
Turning the huge grindstone that kept Papaw's and the neighbors' tools in shape.
Climbing up in the loft over the barn and gathering fresh eggs, then a trip to the chicken house where the "conventional" chickens had left us their bounty.
Bringing "diddles" in when a sudden storm flooded the apple orchard where the chickens scratched, hatched and called home. Putting them on the open oven door of the kitchen stove in a box and covering them to dry their feathers and hopefully save their lives.
Putting my pet "diddle" in an oatmeal box near the stove at night to keep it safe and warm; waking up the next morning to find that a rat had somehow got in the house and gnawed its way into my little chick; crying over the loss.
The flickering light
from the fire in the fireplace in the large living room reflecting on the pictures on the wall and objects in the room; feeling so comforted by the scene. A room softly lit with indirect lighting still pulls up that memory.
Reading Mamaw's "motto" on the wall:
Only one life; it will soon be passed.

Only what's done for Christ will last.
Playing the pump organ and fussing with my cousin who wanted to play it too.
The best memory of all was waking up one Christmas morning, walking into the living room where the fire had been stirred to a blazing light which exposed the most beautiful doll I have ever seen named "Dixie." She was sitting on a tricycle, but the tricycle was only secondary excitement, Dixie claimed my attention and my love. She became my constant companion who was lovingly put to bed at night under a warm blanket and awakened as soon as I was and cared for during the day. She was untouchable; no, cousin, you can't play with her!
Riding the cow to the milk gap.
Using rose petals and "spit" to "paint" my fingernails to shock conservative Papaw and then laughing while pulling them off when I got scolded for polishing my nails (grin).
Crossing the swinging bridge that led to the church and school. Crawling across when my big brother made it sway up and down just as I got to the middle. You did too, brother, even if you "don't remember" it. Mother said you did it to her too! So there! (That's OK, Bob. It's a wonderful memory.)
When we lived there a little while during my first year of school, drinking water out of the "community" dipper. Using the outhouse behind the school which housed all grades in two rooms.
Driving across the creek to get to the farm house. Rushing to move the cars left parked near the creek bank when a flash flood gave rise to the "river."
Going to Mayking near Whitesburg with Mamaw to a tent meeting.
Walking to Whitesburg (about four or five miles as I recall) with Mother and Robert to have fun at the carnival; riding the Ferris wheel was a highlight.
"Mud crawling" in the low part of the creek on a flat rock and sandy bottom—in a wool swimsuit. Ooh, it scratched! Wading up and down the creek, watching for "crawdads."

Trying to find the tree frogs that seemed to always be "singing" in the tree by the front corner of the house.
And many more lovely times!
........... by Delores
Another View of the Farm House
This view appears to be from the cemetery on the hill above the house. The house is in the center of the picture. Uncle Ewen took this picture with his Brownie Box camera. thanks to Marietta for the two farm house pictures! No one else seems to have picture of the house and its surroundings.
From Letcher County "Mountain Eagle" newspaper
Aunt Lula is standing, first on left
Aunt Becky is sitting, first on left
Aunt Lula's family
Aunt Lula Jones' daughter and family (I have forgotten her name, shame on me!).
Cousins enjoying time "down on the farm"
Joyce Ann Wright (Elma's daughter), Ruby Delores (Kelsey's daughter), David and Glenn Adams (Forest's sons), Robert (Kelsey's son), Bill and Lester Craft (Valma's sons)
Robert (left) was manager of A&P at Neon and Harlan, and Uncle Forest (center) was regional supervisor.
Click on picture to enlarge
Gwenda's memories on the farm
Gwenda (Wright) Castle
I remember sleeping on a featherbed at Aunt Valma's. It was probably one of Mamaw's that I had slept on at Cowan.
Mamaw bought Patty and me a doll that someone had made out of a sock.
Patty was a couple of years older than I, so she got to spend the weekend with them when I wasn't allowed to go. I was upset because I was missing out on the fun things she was getting to do.
I remember Patty coming home with her tooth in a little jar she was proud of it.
Mamaw had a habit of putting my hair behind my ears (Maybe she thought I could hear her better?). I wouldn't say anything, but when I was out of her sight I would pull my hair back down.
She was always so understanding and would let me talk to her about anything.
I think the "farm dog's" name was Pal.
....Thanks, Gwenda, for your contribution!
(Gwenda (Wright) Castle is my cousin. Her mom, Elma, was my dad's sister.)
Joyce Ann, Patty Sue & Gwenda's, Dad and Mom
Jesse Enoch Wright
and
Elma Urilla (Adams) Wright
(see "Younger Generation" page for some of their grandchildren)
I think all the kids remembered the friendly dog. Lorinda said she remembered playing with "Pal." I certainly remember it. Gwenda remembers it to be a "Lassie" type dog.
Sign our Guestbook
Click below to view Delores' Websites