Though most of us have migrated to different parts of the country, we still consider "Kentucky" our home state.
We have added some interesting things about our home state here.
There are lots more things to be added as we accumulate them. Come back and find out more about our home state, Kentucky.

Our State Flag
Flag: State seal centered against a blue field

Origin of the Name: From the Wyandot name for "Land of Tomorrow -- Ken-tah-teh
Kentucky was first used officially by Virginia. On December 6, 1776 Kentucky County was created out of Fincastle County, Virginia.
Admitted as a State: June 1, 1792
Capital: Frankfort
Area: 40,411 square miles, Ranks 37th in all states. 39,732 square miles of land
Borders: Illinois, Indiana, Ohio, Tennessee, West Virginia and Virginia
Population: 3, 726,000 (statistic several years old now), Ranks 23rd
Highest point: Black Mountain, 4,145 feet
Lowest Point: Mississippi River, 257 feet
Average Temperature: 87.6 to 23.1

Major Rivers: Cumberland River, Green River, Kentucky River, Mississippi River, Ohio River
Lakes: Kentucky Lake at Murray, Lake Barkley at Eddyville, Cumberland Lake at Somerset, Barren River Lake at Cave city, Cave Run Lake at Owingsville, Dale Hollow Lake at Burkesville, Laurel River Lake at Corbin, Nolin Lake at Bee Spring, Rough River Lake at Leitchfield, Taylorsville Lake at Taylorsville, and maybe some I have missed.
Out of hundreds originally, there are still 13 covered bridges still standing scattered through the State.

Motto: United We Stand, Divided We Fall
Latin Motto: Deo gratiam habeamus (Let us be thankful to God)
Nickname: Bluegrass State
State Fair: Louisville

Things To Do and See
Kentucky has caves to explore; lakes and rivers for fishing ,boating and water sports; state parks with a diversity of interests; camping; museums, horse farms; nature trails; horse racing; dirt biking and motorcross; golf courses; covered bridges; and list goes on.
Eastern Kentucky boasts of the most beautiful fall colors you can find any where. It was once the most coal-productive in the world.
Each section of the state has something special to boast about. You can find a lot of information at http://www.kentucky tourism.com
Come Visit Us!



Tree: Kentucky Kentucky Tulip Tree/Coffee Tree
Tulip Tree
Became official tree in 1994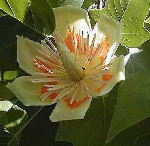 Coffee Tree
Unofficial Tree
Coffee Pods were roasted and used by early settlers to make a coffee-like drink. They are poisonous to humans if not thoroughly roasted
See link below for controversy over Kentucky Tulip Tree (official tree) vs Kentucky Coffee Tree (unofficial tree) for state tree
http://www.kdla.ky.gov/resources/kytree.htm#Controversy
Flower: Goldenrod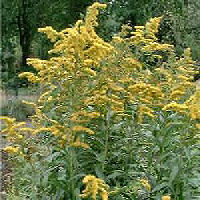 State fruit: Blackberry
Drink: Milk

Bird: Kentucky Cardinal
Fish: Kentucky Spotted Bass
Wild Animal Game Species: Gray Squirrel
Butterfly: Viceroy

These interesting tidbits were sent to me from one of my Kentucky friends. I have no way to prove their authenticity, but I would make a guess that they have merit.
1792: Kentucky was the first state on the western frontier to join the union.
1816: (First Promoted) Mammoth Cave, with 136+ miles of mapped passages, is the world's longest cave. It is 379 feet deep and contains at leave five levels of passages. It's second only Niagara Falls as the most popular tourist attraction in the US. It became a National Park on July 1, 1941.
1856: The first enamel bathtub was made in Louisville.
1893: The first electric light bulb was shown in Louisville. Thomas Alva Edison introduced his invention to crowds at the Southern Exposition.
1887: Mother's Day was first observed in Henderson by teacher Mary S. Wilson. It became a national holiday in 1916.
1893: "Happy Birthday to you," probably the most sung song in the world, was written by two Louisville sisters, Mildred and Patricia Hill.
Late 19th century: Bibb lettuce was first cultivated by Jack Bibb in Frankfort, Kentucky.
1896: The first (known) set of all male quintuplets was born in Paducah.
1934: Cheeseburgers were first tasted at Kaelin's Restaurant in Louisville.
1937: The first Wigwam Village Motel, with units in the shape o a 'teepee,' was built by Frank A. Redford in Cave City.
The world's largest baseball bat, a full on hundred twenty feet tall and weighing 68,000 pounds, can be seen at the Louisville Slugger Museum in Louisville.
Chevrolet Corvettes are manufactured only in Bowling Green.
St. Mary's Cathedral-Basilica of the Assumption in Covington is the home to the world's largest hand blown stained glass window in existence. It measures an astounding 24 feet by 67 feet and contains 117 different figures.
The world's largest crucifix, standing at sixty feet tall, in in Bardstown.
Fort Knox holds more than $6 billion worth of gold, the largest amount stored anywhere in the world.
The Jiff plant in Lexington is the world's largest peanut butter producing facility.
Kentucky has more resort parks than any other state in the nation.
MIddlesboro is the only United States city built inside a meteor crater.
Newport is home to the World Peace Bell, the world's largest free-swinging bell.
Pike County is the world's largest producer of coal.
Pikeville annually leads the nation (per capita) in consumption of Pepsi-Cola.
Post-It Notes are made exclusively in Cynthiana.
Shaker Village (Pleasant Hill) is the largest historic community of its kind in the United States.
Christian County is 'wet,' while Bourbon County is 'dry.'
Warren County has the most fertile land in the state.
Lake Cumberland has more miles of shoreline than the state of Florida.
Kentucky is best known for its beautiful blue grass.
And, let us not forget the basketball and the race horses!


Musical Instrument: Dulcimer

If you are among the older citizens of Kentucky, you will remember sitting around the radio and listening to the "Renfro Valley Barn Dance." Kentucky produced some of the finest entertainers such as Bradley Kinkaid, Red Foley, Jimmy Skinner, Billy Keith Williams, Roland Gaines and Ernie Lee Cornelison, not to mention all the contemporaries of today.

Song: "My Old Kentucky Home"
Original Version

The sun shines bright in the old Kentucky home,
'Tis summer, the darkies are gay;
The corn-top's ripe and the meadow's in the bloom,
While the birds make music all the day.
The young folks roll on the little cabin floor,
All merry, all happy and bright;
By 'n' by Hard Times comes a-knocking at the door,
Then my old Kentucky home, goodnight.
~~~~
Chorus
Weep no more my lady
Oh! weep no more today!
We will sing one song for the old Kentucky home,
For the Old Kentucky Home far away.
~~~~
They hunt no more for the possum and the coon,
On meadow, the hill and the shore,
They sing no more by the glimmer of the moon,
On the bench by the old cabin door.
The day goes by like a shadow o'er the heart,
With sorrow, where all was delight,
The time has come when the darkies have to part,
Then my old Kentucky home, goodnight.
~~~~
Chorus
~~~~
The head must bow and the back will have to bend,
Wherever the darky may go;
A few more days, and the trouble all will end,
In the field where the sugar-canes grow;
A few more days for to tote the weary load,
No matter, 'twill never be light;
A few more days till we totter on the road,
Then my old Kentucky home, goodnight.
~~~~
Chorus
"My Old Kentucky Home" was said to have been inspired by Steven Foster's visit to his Rowan cousins at Federal Hill in Bardstown.
The home is now part of My Old Kentucky Home State Park.
The Courier-Journal reported in the May 8, 1921 edition: "To the strains of 'My Old Kentucky Home' Kentuckians gave vent their delight. For Kentucky triumphed in the Derby." The winning horse was Kentucky-owned and bred Behave Yourself.
To honor Steven Foster, Churchill Downs created the Stephen Foster Handicap in 1982 for three-year-olds and up to 1 1/8 miles with a purse of $750,000.
Kentucky State Song Lyrics!

My Old Kentucky Home
Lyrics Adopted in 1986

The sun shines bright in My Old Kentucky Home,
'Tis summer, the people are gay;
The corn-top's ripe and the meadow's in the bloom
While the birds make music all the day.

The young folks roll on the little cabin floor,
All merry, all happy and bright;
By 'n' by hard times comes a knocking at the door,
Then My Old Kentucky Home, good night!

Chorus
Weep no more my lady
Oh weep no more today;
We will sing one song
For My Old Kentucky Home
For My Old Kentucky Home, far away


State Bluegrass Song: "Blue Moon of Kentucky"
Lyrics 1947
Blue moon of Kentucky, keep on shining,
Shine on the one that's gone and proved untrue;
Blue moon of Kentucky, keep on shining,
Shine on the one's that gone and left me blue.
It was on a moonlight night,
the stars were shining bright;
And they whispered from on high,
your love had said goodbye.
Blue moon of Kentukcy, keep on shining,
Shine on the one that's gone and said goodbye.
In 1989, the General Assembly designated the song "Blue Moon of Kentucky" as Kentucky's official state bluegrass song. It was written 1947 by William Smith "Bill" Monroe of Rosine, Kentucky.

Martin Van Buren Bates
In 1837 Martin Van Buren Bates was born in Letcher County to John W and Sallie Bates. At thirteen years of age, he weighed 300 pounds. He kept growing until he reached seven feet and 11 inches; his weight reached 525 pounds making him the largest man in the world.
Martin was a school teacher and served the Confederacy during the civil war. After the war he traveled, beginning his journey by walking to Cincinnati with a friend. In Cincinnati, he joined the circus and toured the country.
On a trip to Nova Scotia he met his match and married Ann Swan. She stood a little taller than he did and they both continued with circus.
Queen Victoria of England presented the couple with large gold watches costing more than $1,000 (very expensive for that era).
After his wife's death, he met and married Anna LaVonne in Cincinnati. Anna weighed in at a mere 100 pounds.
He retired to his home in Seville, Ohio where he lived until his death at 80 years of age.
Letcher County counted many of its residents relatives of Martin. Some of his Letcher County relatives were Dr. Wright of Seco, Booton Bates of Neon, Henry bates of Thorton and Jesse Bates of Jenkins.
(Information garnered from Kentucky Explorer, June 2005 edition)

Hatfield and McCoy Feud
You don't have to be from Kentucky to have heard of the famous 'Hatfield and McCoy Feud" in the area of Pikeville, Kentucky and Matewan, West Virginia. On the Kentucky side the clan leader was Randolph McCoy; on the West Virginia side it was William (Devil Anse) Hatfield.
It began in 1863 and lasted nearly thirty years and claimed thirteen lives. It began with the killing of Asa Harmon McCoy followed by a stolen pig. And then there was the love affair and heartbreak of Roseanna McCoy with Johnse Hatfield.
Other incidents were the stabbing and killing of Ellison Hatfield on Election Day at the polls, shooting of three McCoy boys, burning of the McCoy home by the Hatfields resulting in the killing of two McCoy children.
Ironically, both Randolph McCoy and William Hatfield lived into their 80's. Randolph died of burns on March 28, 1914; William became a born-again Christian in 1911 and died of pneumonia January 6, 1921.
There is a lot of information about the "Feud" at http://www.blueridgecountry.com/hatmac/hatmac.html and http://www.real-mccoys.com/feud.html
There are several websites dedicated to the "Feud" and ultimately the 2000 reunion.
It was finally put to rest June 9-11, 2000 when the Hatfield-McCoy "reunion of the century" took place in Pikeville, Kentucky. Descendants of the feuding families hoped to end the hostilities that brought them notoriety.

If your Kentucky interest is stirred, you can find more on the internet, for example here: http://www.netstate.com/states/symb/ky_symb.htm
If you aren't a Kentucky Fan (How could you not be!!), you can also find other state's symbols here.
Visit Delores' Web sites


Copyright Kelsey Adams Family 2005