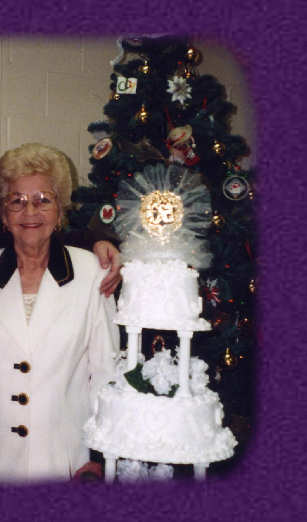 Robert and Ona Blaine Adams
"Life is eternal, and love is immortal, and death is only a horizon, and a horizon is nothing save the limit of our sight."
The lives of Robert and Ona Blaine were joined December 3, 1947 and demonstrated that love is immortal and unconditional.
After nearly sixty years of life together, they crossed that horizon just out of our sight; she on June 9, 2007 and he on August 30, 2007; and now together again across the horizon, as in life here on earth, the immortal love lives on.
This page is a celebration of two lives that touched ours in so many wonderful ways, we wanted to share them with others. As an observer of Robert and Ona Blaine's union, I can say that their love for each other is the epitome of what God intended between husband and wife. And together they extended their lives and love to their family and others who were fortunate enough to know them.
The world is a better place for Robert and Ona Blaine having lived in it!
Their children and family have given us permission to tell their story in pictures which they provided. If you have something you would like to contribute to this page, please email us at the address at the bottom of the page.
A complete obituary is on the "News of the Family Page,"
and Robert and Ona Blaine's personal page has more information..
--Click on pictures to enlarge.--








Lions Club, Fire Department, Fleming-Neon Schools and Other Civic Concerns
Robert, supported by Ona Blaine, was responsible for getting eye glasses to needy children. The first picture shows him receiving an award from the Lions Club. They were very supportive of the Neon Volunteer Fire Department, as was their deceased son, Michael, and their oldest son, Phil. Both were very civic minded and supported their community and school activities.








Cousins' Tributes
To Phillip and Linda Carol
A Tribute to Your Father
And My Cousin
Click on picture to enlarge
ROBERT VERNON ADAMS
I do not have the vocabulary to describe the influences, the experiences with, and relationship I had with your Dad and my cousin, Robert, but I will do the best that I can.
Those experiences date back to our childhood when my Mom would take my brother, Bill and me "over on Cowan" to stay a week or so with PaPaw and Mam Ma Adams, with whom your Dad and our cousin Robert was living. The times we had together were nothing short of wonderful, from swimming in the creek, swinging on grapevines to going up on the hillside, putting pawpaws on a stick, slinging the stick and watching the pawpaws fly off and splash in Cowan Creek,
My admiration of your Dad heightened with his enlistment in the Navy in 1944, during World War II, and his return to finish high school at Whitesburg and playing football on the team coached by our Uncle Jody. l never forget how much Uncle Jody thought of him. Even playing center, Uncle Jody would have Robert call the offensive plays while in the middle of the "huddle," leave the "huddle" between the legs of one of the players, get over the ball and then the rest of the team would follow.
His influence continued as I entered high school at Fleming with him watching and encouraging me as I played. Then when I elected to attend Georgetown College, he kept telling me I was good enough to play college football, and me finally going out for the team "just to prove to him I was too small." Thank you, Robert, for that challenge.
After I returned from the Navy and started coaching football at Georgetown College, his continuing words of encouragement helped me so very much and his ability to recognize high school players with college potential was beyond compare. The number of talented players he told me about and assisted me in convincing them to attend Georgetown are innumerable; and he seldom missed a Georgetown College game and always rendered words of encouragement and assistance.
But, most of al, my Cousin Robert was a true friend. His positive attitude with his health struggle was an inspiration to all who knew him. That same inspiration continued even through the last visit my Brother Jim and I had with him at the Veterans Hospital in Hazard.
My family and I are and will be eternally grateful for your Fatherís relationship with us and his influence in making this a better world for us and all in it.
Your Loving Cousin,
~~Lester Craft~~
Lester, Jim and Bill Craft
Sons of Nat & Valma (Adams) Craft
Excerpt from email to Phillip and Linda from another cousin
"....take comfort in all the wonderful memories you have of your dad and the loving recollections all of those who knew him....He was a wonderful man and the one thing I remember most about him is that beautiful warming smile that was always on his face and that made me feel like a special person every time I encountered him even though I was just another little kid is his life."
~~Tom Crase~~
"Son of Ewen & Wilma (Adams) Crase"
"Brother of Selma, Marietta, Linda & Bill"
"And family of a wonderful breed of Eastern Kentucky People"


Excerpts from Madonna Sturgill's column
"The New-Press" (Wednesday, June 13, 2007 issue)
Ona Blaine (Quillen) Adams
Saturday, our church family and community was saddened to hear of the passing of our dear sister in Christ and friend, Ona Blaine Adams. Ona had suffered with poor circulation for several months and had her leg amputated to her knee. She went to Letcher Manor for rehab, but never did heal completely. She fought back several times from pneumonia and congestion, but this last hospital stay made her very tired. I visited her Wednesday and Thursday and she ate some, talked to her beloved Robert by telephone and talked to her family. Ona was ready to go on home to be with Jesus. Please lift Robert up in prayer. The staff of the Veterans Home brought him to the church both night and it was very hard for him. Sister Ona had taken such good care of Bob, till she was not able to walk. Please pray for Phil, Kathy, Allison and, Jon, Michael, and Linda, James, Robert and Stamper. Her husband and family were her world, and she gave so freely of her love and time to all of them.
The church was overflowing with family and friends who loved and were loved by Ona. She treated all of us like family and so many came by to pay tribute to a wonderful Christian woman. She loved God and her church and followed his command to love others as you would have them love you. Her life was about serving and her mission was to see people come to know Jesus as their savior. Everyone who ever came into contact with Ona, walked away a better person for knowing her.
At her memorial service our choir sang two of her favorite songs, Amazing Grace and Because He lives. Brother Charles Engle sang Sheltered in the Arms of Love, Brother Bernard Raper read her obituary and shared scriptures and memories. Dr. Sam Quillen, Jr., her beloved nephew, reflected on sweet memories. Pastor Mark shared scriptures and thoughts of Ona and Brother Bob Rose shared scriptures, thoughts and closing prayer.
Sister Ona would have been very pleased with the service.


Aunt Wilda Remembers Robert & Ona
Daddy's youngest brother, Jody, was more like a big brother to Robert as he was growing up in Cowan. After Robert's mother died when he was just months old, our paternal grandparents took him into their home and reared as their own.
I recall Robert telling how he learned to swim in the creek just down the road from the "home place." Uncle Jody tossed him in the river and told him to "swim." He did, and shared many happy times with Uncle/brother Jody.
After Robert's death, Uncle Jody's wife, Wilda, wrote some of the things she remembered about Robert and Ona. She gave me permission to share them here. Uncle Jody has been deceased for many years, but Aunt Wilda now lives in Ohio near their daughter Judy and here husband, Hunter Mullins, after residing in South Dakota for many years near their youngest son, Will. They have another son, Jody Len, who lives in Florida. She is a remarkable lady! She was 89 years old this past October, 2007, but very astute and writes lovely letters.
Here is Aunt Wilda's story
Robert was still in grade school when Jody and I were married, and he and I were always good buddies. My only sister was the same age as Robert. She visited us often, and we had rented Kelsey's (Robert's dad) place and started our family. She and Robert were friends.
Robert was 17 years old when he volunteered to join the Navy. I wrote to him during that time, and by the time he was discharged we had moved back to Hindman. Jody was teaching there. As time passed we had less contact, but always stayed in touch..
I was pregnant with "what" turned out to be our second son when Jody volunteered and joined the Army. Then Kelsey sold his place. I rented a home in Hindman and moved back there. I lived there until the war ended and Jody came home. He got a job teaching in the high school, and there we stayed until we moved to Florida. That was a number of years, as Judy was a junior in high school the year we moved. We moved because our oldest son was sick, and our doctor thought the rough winters in Knott County were too hard on him.
We were still living in Hindman when Robert and Ona Blaine popped in one day and announced that they had come to our house to get married. (Delores' note: They were both 21 years of age, but were eloping!) We were thrilled that they come to us, but the Methodist church had a part-time minister, and he was away. The Baptist Church minister was not available. My grandfather who was an Old Regular Baptist preacher had died. We ended up going to our county judge who most graciously agreed to come up to our house and perform their ceremony.
My mother, who was known for her cooking, made a lovely wedding cake during the afternoon; so we pulled it off. They were so happy "ever after." (Delores' note: Robert and Ona's marriage was unmistakably a 'model' marriage. I know of no other couple who were more loving and dedicated to each other than they. Their beautiful commitment lasted until their deaths.)
Ona Blaine knew how Robert felt about her, but I wish she could have heard him talking to me about her. "She was," he said, "the sweetest thing in the this world."
I am so glad to have had several weeks to call him (when Robert was in the Veteran's Home in Hazard). We had some laughs over things we each remembered, as well shedding tears. I am glad that I had the opportunity to talk with Robert after Ona Blaine died. I treasure all our conversations.
A very special thanks to Aunt Wilda for sharing her memories of Robert and Ona Blaine!


If you have pictures or stories you would like to share for this page, please email me (button below).


Through the Years 
I can't remember when you weren't there 
When I didn't care for anyone but you 
I swear we've been through ev'rything there is 
Can't imagine anything we've missed 
Can't imagine anything the two of us can't do 

Through the years 
You've never let me down 
You turned my life around 
The sweetest days I've found 
I've found with you 
Through the years 
I've never been afraid 
I've loved the life we've made 
And I'm so glad I've stayed 
Right here with you 
Through the years 

I can't remember what I used to do 
Who I trusted, who I listened to before 
I swear you've taught everything I know 
Can't imagine needing someone so 
But through the years it seems to me 
I need you more and more 

Through the years 
Through all the good and bad 
I knew how much we had 
I've always been so glad 
To be with you 
Through the years 
It's better everyday 
You've kissed my tears away 
As long as it's okay 
I'll stay with you 
Through the years 

Through the years 
When everything went wrong 
Together we were strong 
I know that I belonged 
Right here with you 
Through the years 
I never had a doubt 
We'd always work things out 
I've learned what love's about 
By loving you 
Through the years 

Through the years 
You've never let me down 
You turned my life around 
The sweetest days I've found 
I've found with you 
Through the years 
I've never been afraid 
I've loved the life we've made 
And I'm so glad I've stayed 
Right here with you 
Through the years 




Visit Delores' Other Web Sites
Copyright Kelsey Adams Family September 2007