This is from Robert and Ona's original page.
Now both retired, Robert and Ona live in Kentucky. They are the parents of three children: Phillip, Michael (deceased) and Linda Carol. Phillip and Linda live near their parents.
James and Linda (Adams) Collins have twin boys, named Stamper and Robert, after both grandfathers. James and Linda felt one of them needed to stay home with their boys, so Linda is a nurse and James is a house-husband.
While raising their family, Robert worked as manager of A & P Food Stores while Ona Blaine made women lovely in her beauty shop. Ona is also a very gifted artist. She had some art courses in college but family and work took up too much of her time to be able to give much attention to her art.
After retiring, she took a few more lessons and has some beautiful paintings to show for it. Until breathing problems made it necessary for him to stop, Robert spent his spare time in his woodworking shop turning out items they showed at craft shows. Their family is very active in the First Church of God where several generations of Ona's family, the Quillens, have attended.
The Extended Family
Back Row: James Collins, Robert, Michael (Phillip's son)
Front Row: Linda Carol Collins, Ona Blaine, Kathy, Phillip, Jonathan, Allison
Ona and Kathy are holding Linda and James' twin sons, Robert and Stamper
Not pictured above is Michael who died in his late twenties of a heart attack
The Family
Phillip, Robert, Ona Blaine, Linda Carol, Michael
(Sorry about the post in Phil's face!)
Memories from Cowan Creek
Grandfather Will and Grandmother Loretta Adams holding Delores and cousin Joyce Ann (Wright) Davis. Robert in front. (At family home place in Cowan)
Celebrating 50 years together 1997
Phillip, Robert and Ona Blaine, Linda
Lovebirds Robert and Ona Blaine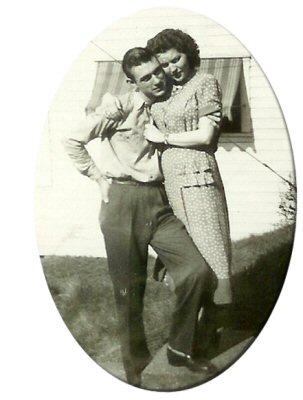 Shortly after Phillip's birth
Mother (Lillie), Ona Blaine and Alice
Robert and Daddy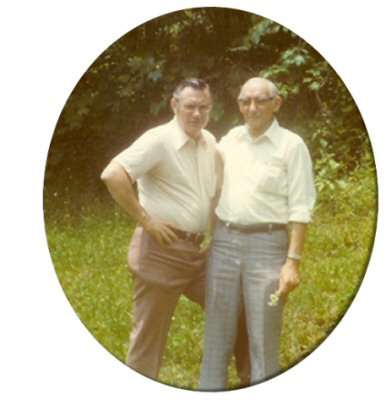 Robert's Mother (center) and Sisters
Polly Gibson, Louie Gibson Adams, Rachel Gibson Frost
Robert's mother, Louie, died when he was an infant.
Happy bare feet cousins on the farm
Bill Craft, Robert, Lester Craft
(Bill and Lester are Aunt Valma's sons)
Fun on the farm
Mamaw, Robert, Lester and Bill
Click below to visit Delores' Websites